Shafer Design has been a swimming pool designer for over 30 years for Auckland homes. We have learned a lot over that time, especially how much we love working with water to enhance the environment!
We love to create play spaces for the family and areas of tranquillity, whilst still designing pools that are attractive, bringing life, sparkle and reflectivity to the garden.
---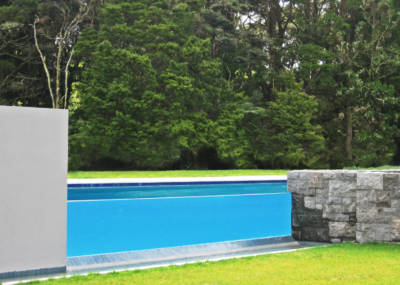 First Steps in Swimming Pool Design
Swimming pool design is, above all things, quite a technical element of garden design. Because of its size, a swimming pool, needs careful placement on the property so that none of the space around it is wasted or cut off from use and that its proportions suit the scale of the house and property. The design also incorporates, from the early stages, the type of poolside furniture you would like and creates the appropriate spaces within the pool fencing.
The collective years of knowledge from within our team mean that we have the skill to put all this all together and for it to look fabulous!! We will work closely as a team with you, and other swimming pool professionals, such as engineers and pool companies to create a design to enhance your lifestyle, your property.
The process starts with a consultation where we take in all the aspects of your garden design, viewing your swimming pool design as part of the whole so that we can ensure that your whole garden reaches its potential.
Getting Started with your Swimming Pool
Engineering and Building Consent
A swimming pool needs structural engineering to ensure it is strong enough to stand the test of time and that it will not adversely affect the structures around it. It also needs to meet all the town planning and pool fencing rules dictated by the Building Code and Local Body planning rules. This is dealt with in the Building Consent stage of our drawings. We produce a set of drawings and they are submitted to Council along with Engineering drawings as a package.
Swimming Pool Budgets & Costs
We discuss budgets with you, which often dictate many design decisions, keeping your project realistic.
We look into your property's more technical aspects such as underground services and planning restrictions and focus our design to avoid complications wherever possible so that the Building Consent will go through as easily as possible.
Other Consents
Sometimes, when there is an unavoidable problem, we will apply for extra consents such as Resource Consent for planning issues or Water Care Consents, if you have Council service pipes in your property. This will go into Council either with the Building Consent or before if there are any doubts whether we will be given permission
Fencing for your Pool
We also design the swimming pool carefully from the outset so that the pool fencing works with the design, not against it. This is a specialist area that Council keeps a very close eye on, and we pride ourselves in our ability to integrate the fencing as well as possible.
Final Steps
Once all of the planning and paper work is done, we can also help you with the fun part; choosing paving products and pool tiles and guide you through the pool colour choices so that there is a truly co-ordinated finished product for you to enjoy for years to come.